By Webeditor Seoul on January 31, 2013 - 7:32am | Events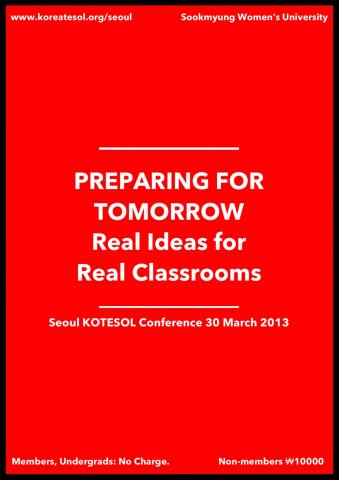 Date:
Saturday, March 30, 2013 (All day)
Location:
Sookmyung Women's University
South Korea
Preparing for Tomorrow: Real Ideas for Real Classrooms
Pre-registration
Complete the pre-registration form here.
Members / Undergraduate Students: No Charge
Non-Members: W10,000
Program
The program for the conference promises to be an exciting one, offering real, practical ideas for teachers of all age groups. Ideas that can be used in real classrooms the Monday following the conference!
Download the program (.pdf) here.
Floor Plan
Directions
Line 4 (Light Blue)  Sookmyung Women's University Station.

 Go out Exit 10 of Sookmyung Women's University Subway Station line No. 4. Walk through the tunnel under the railway line *(Line 1 Dark Blue - see below), cross the main road, and walk up the hill towards the university.

Keep going up the hill until you come to a large staircase on your left, go up the staircase and continue going straight until you reach the quadrangle, follow the signs